Nelson Mandela Long Question Answer
Nelson Mandela Long Question Answer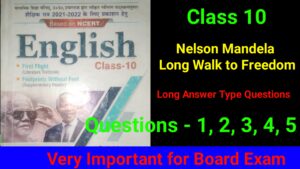 Nelson Mandela Long Question Answer
Question. 1 What does Mandela think about the patriots? Can they be repaid?
Answer – Nelson Mandela thinks about the patriots that the freedom and democratic government have all come only due to the great ssacrifices of many patriots. They are those people who did not care about their life and sacrificed their lives for country. So, they can not be repaid. He also thinks that he himself is the sum of all those who had sacrificed their lives.
Question 2 What ideas does Mandela have about courage, love and hate?
Answer – According to Mandela, he learnt the meaning of courage from his companions. Who struggled very hard for the freedom of the country. They did not care for their life and sacrificed everything for their people and country. They did not break before the brutality of the oppressors and showed their full strength. So, Mandela learned courage from them. According to Mandela, no man is born to hate another man due to colour or religion. Love comes more naturally to a man heart than hate. According to Mandela, both the oppressor and the oppressed are the prisoners of hatred. No one can become happy after taking away others freedom.
Our Mobile App for English Preparation – https://play.google.com/store/apps/details?id=com.knowledgebeem.online
Question 3 A Nelson Mandela was the hero of South Africa's freedom movement. Comment.
Answer – Nelson Mandela was a real hero of South Africa's freedom movement. His conscience encouraged him to demand a respectful and unique life for all. He was always determined to fulfill his twin obligations. He performed his obligations for his family as well as his community. Although he was prevented from doing so, yet he did not stop and not discouraged. He became homeless. In spite of all these difficulties, he did not change his decision, he did not care the apartheid policy and raised his voice against racial system, he announced that this system had created a lasting wound in the country. He fought against it and at last got success. He became the first black President of South Africa.
Our YouTube Channel – https://www.youtube.com/c/Knowledgebeem
Question 4 What were the difficulties faced by Nelson Mandela in achieving freedom for his people?
Answer – Nelson Mandela had to face many difficulties in achieving freedom for his people. He had to sacrifice the comfort of his home and loving family. He was declared an outlaw for demanding equality. He was punished and put into jail. He along with his companions was oppressed and tortured beyond tolerance. He suffered hunger, oppression and injustice but kept the flame of independence burning in his heart. Finally, South Africa got freedom from the rule of Apartheid on 10th May, 1994.
Nelson Mandela Long Walk to Freedom Short Question Answer
Q. 5. What does Nelson Mandela refer to as an extraordinary human disaster?
Ans. Nelson Mandela refers to the apartheid policy of the white race against the black people as "an extraordinary human disaster." As white people snatched freedom from the coloured people of South Africa to whom country belonged. The black people were subjected to oppression for long. They were not even allowed to discharge their obligations to their own families, community and their country. White people had no compassion for them and oppressed their own people and put them in prison. If they had some freedom it was curtailed. The black people lived the life of a slave.
For more post visit our website – https://knowledgebeem.com
Our YouTube Channel – https://www.youtube.com/c/Knowledgebeem
Our Mobile App for Board Exam Preparation – https://play.google.com/store/apps/details?id=com.knowledgebeem.online
Our Telegram Channel – https://t.me/Knowledgebeem